CV
---



This is a short bio for Professor Walid Phares for quick public use (350 words)

Dr. Walid Phares (born December 24, 1957) is an American political scientist, author, and advisor. He served as Foreign Policy advisor to President Donald Trump during the 2016 campaign and as senior National Security advisor to Presidential candidate Mitt Romney in 2011 and 2012. He joins Fox News and Fox Business regularly as the network's Foreign Policy and National Security expert and frequently appears on national and international media. He is the Co-Secretary General of the Transatlantic Parliamentary Group, a transatlantic caucus of members of the U.S. Congress and the European Parliament, founded in 2008. The objective of the caucus is to assess international security threats, economic crises, and social issues and recommend strategies and policies to the government of the United States and governments of members of the European Union. Dr. Phares briefs and testifies to U.S. Congress, the European Parliament and the United Nations Security Council on matters related to international security, democracy, and Middle East conflicts. He lectures at defense and national security institutions and serves as a consultant on international affairs in the private sector.

Dr. Phares was born in Beirut, Lebanon where he spent the first half of his life until immigrating to the United States in 1990. He received two Bachelor's degrees from Saint Joseph Jesuit University in Beirut – the first in Public Law and the second in Political Science and Public Administration – and obtained his Master of Laws degree from l'Université de Lyon, Lyon III, France. In 1993, he obtained his Ph. D in International Studies - International Relations and Middle East Studies from the University of Miami.

Dr. Phares' academic expertise encompasses the fields of Comparative Politics, Ethnic Conflict, and Strategic Studies. He taught in the Department of Political Science for over a decade at Florida Atlantic University and for several years at Florida International University before joining the National Defense University as a professor of Global Terrorist Strategies where he taught from 2006-2012. Most recently, Dr. Phares taught U.S. Foreign Policy at Bahcesehir University (BAU) in Washington, D.C. where he also served as Vice-President and Provost. He lectures on university and college campuses across the United States and internationally in London, Stockholm, Brussels, Strasbourg, Mexico, Geneva, Paris, Lisbon, Sao Paolo, Montreal, Rome, Berlin, Madrid, Nicosia, and Beirut. His scholarly articles have appeared in the Middle East Quarterly, Global Affairs, the Journal of South Asian and Middle Eastern Studies, The Journal of International Security Affairs, the International Journal of Intelligence and Counterintelligence, Homeland Security Today, and other specialized journals.

He has published twelve books in three languages - English, Arabic and French - on the Middle East and international terrorism. He was first published in 1979 at the age of twenty-two, after writing three volumes on the concept of pluralism in Lebanon and the greater Middle East. His post 9/11 publications include Future Jihad: Terrorist Strategies Against the West, published in 2005, The War of Ideas: Jihadism Against Democracy, published in 2007, The Confrontation: Winning the War Against Future Jihad, published in 2008 and The Coming Revolution: Struggle for Freedom in the Middle East, published in 2010. The Coming Revolution projected popular uprisings in the Middle East before they occurred later in 2011. His most recent publication is The Lost Spring: US Foreign Policy and the Catastrophes to Avoid which predicted the rise of ISIS and the Iran Deal strategies.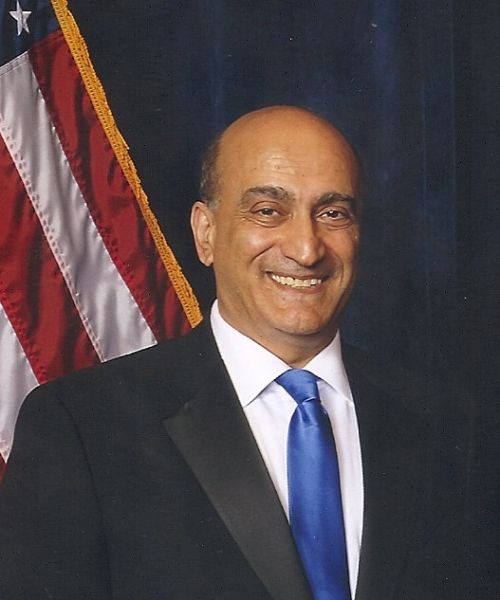 Professor Walid Phares
© Copyright 2003-2018 by walidphares.com

Top of Page